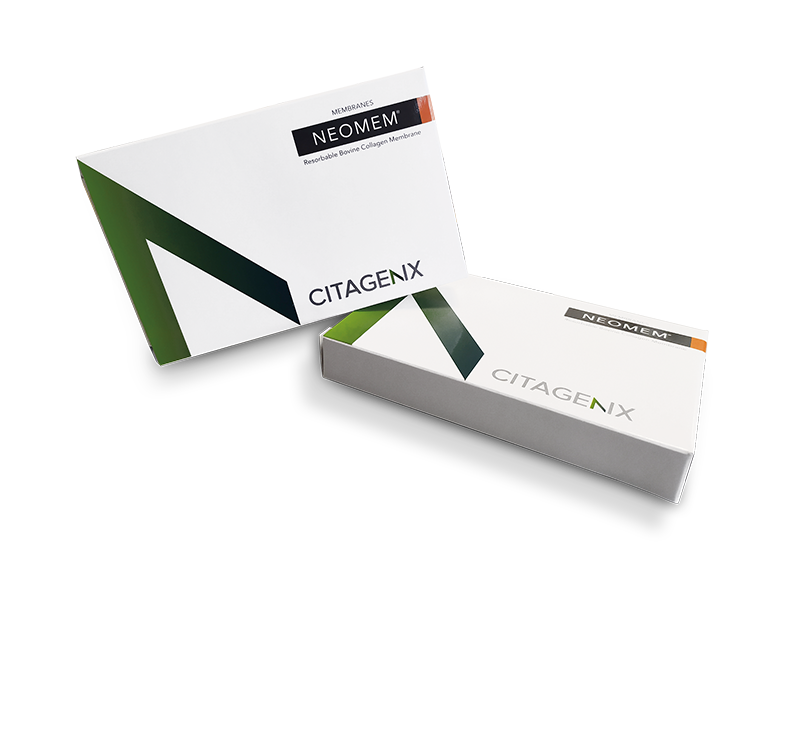 Bioresorbable membrane NEOMEM™
NEOMEM™ membrane is a biomaterial consisting of type-1 bovine collagen fibres. Designed for guided tissue regeneration procedures, it favours periodontal tissue healing. NEOMEM™ membrane is indicated for the filling of large cavities, surgical site protection within bone defect reconstruction procedures in oral surgery, periodontal surgery and implantology.
2 membrane sizes available
– 15 x 20 mm
– 20 x 30 mm
Indications
– Periodontology/Implantology
– Protection and isolation of small size bone regeneration site
– Protection of an alveolar blood clot
– Protection of the sinus membrane in sinus lift procedures

Highly purified and biocompatible
Apyrogenic, the NEOMEM™ membrane is a material of highly purified type 1 collagen fibers derived from bovine Achilles tendon and sterilized by gamma radiation. It presents a high safety margin.

Rapidly resorbable
Its occlusive cellular action delays epithelial invasion, its macromolecular permeability allows the passage of nutritional elements. The membrane is completely resorbed between 26 and 38 weeks.

Exceptional Clinical handling
The NEOMEM™ membrane can be easily shaped and placed, whether it be dry or moistened. It can be positioned independently from the side. It has a suture extraction strength between 290g and 350g.
Want to know more about membranes Neomem™?
Our Surgery specialists and the TBR team will have the pleasure to present you the bioresorbable membranes Neomem™ !
Products & Solutions
Discover our other regenerative solutions
Téléchargement de la documentation