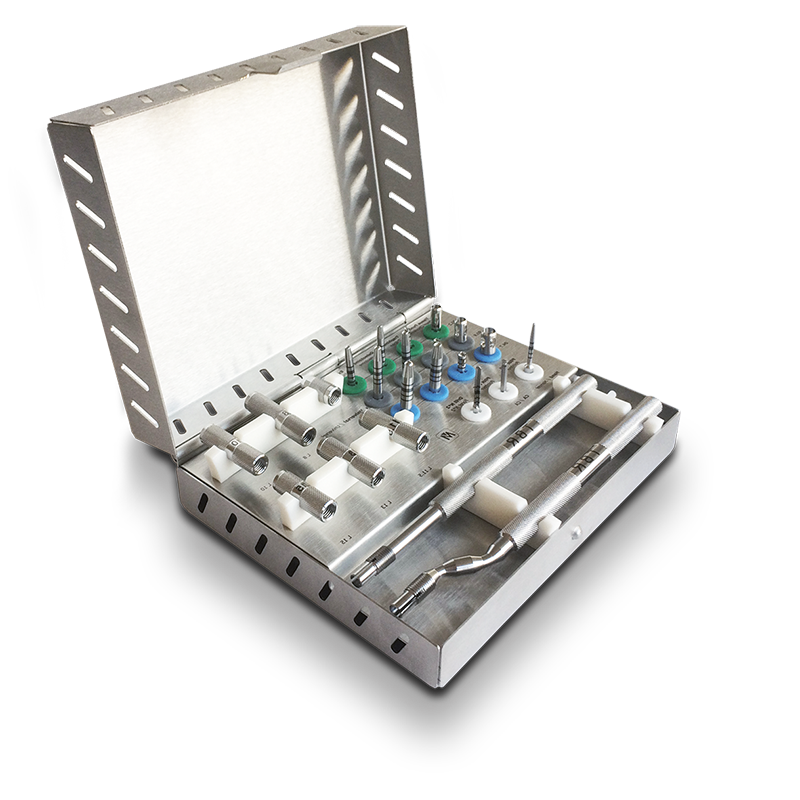 Osteotomy and bone expansion kit
Osteotomes are surgical instruments that condense and shift bone during surgical procedures that require bone remodelling. The indications for the osteotomy and bone expansion kit are multiple: densification of cancellous bone – type III or IV- localized expansion of thin or deformed crests, sinus lift through crestal approach, sinus floor elevation with grafting, or preparation of the future implant site.
OSTEOTOMY (SINUS LIFT)
Mechanical trepanation
BONE EXPANSION
Bone densification
Bone crest expansion

Autoclavable
The surgical stainless steel box and its components are all suitable for sterilisation.

Ergonomic
The various osteotomy and expansion tips can be easily set and removed from the straight or curved handles. The kit is complete and very compact.

Safety
Thanks to the various stops and laser markings on the tips, the working depth is always under control.
Want to know more about the Osteotomy and Bone Expansion Kit?
Our Surgery Specialists and the TBR team will have the pleasure to present this kit to you!
Products & Solutions
Découvrez toutes nos solutions régénératives
Téléchargement de la documentation