PeriOptix Loupes
Remarkable comfort. Exceptional quality. Incredibly lightweight.
The new TTL (Through-The-Lens) HDMaxTM and Flip-Up Microline loupes are available in different magnifications and working distances.
Discover the new high-quality HDMaxTM custom loupeswith optimal clarity. Through-the-lens custom loupes are manufactured featuring cutting-edge components under strict quality standards, providing edge-to-edge sharpness
With a total weight of only 55 g, the elegant and ergonomic PeriOptix HDMax™ TTL x2.5 loupe combined with the light LumiProTM offers a lightweight and compact alternative to heavy and bulky loupes. Experience everyday working comfort with a loupe that is right for you.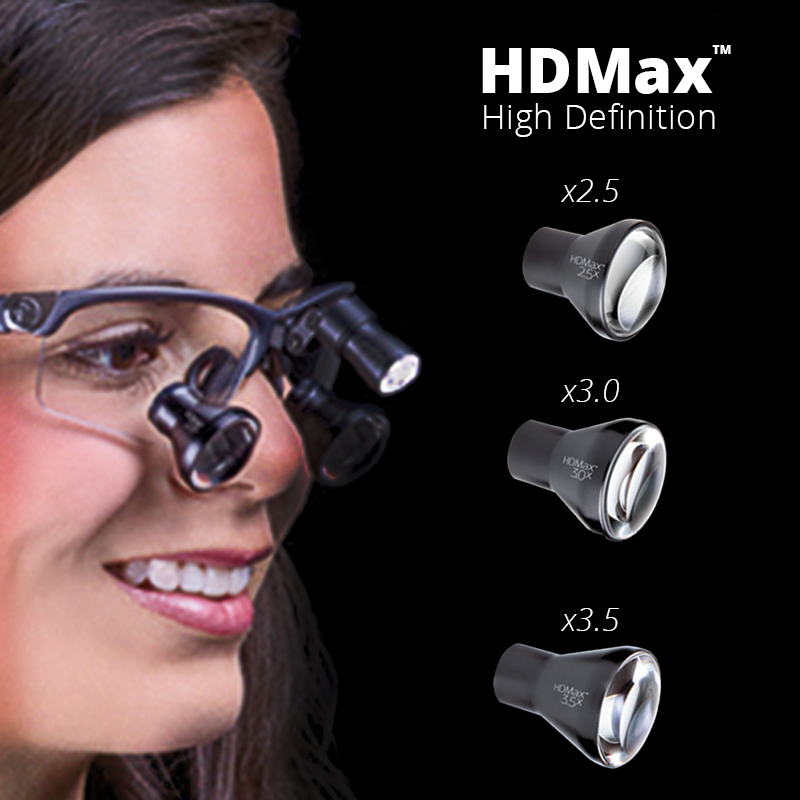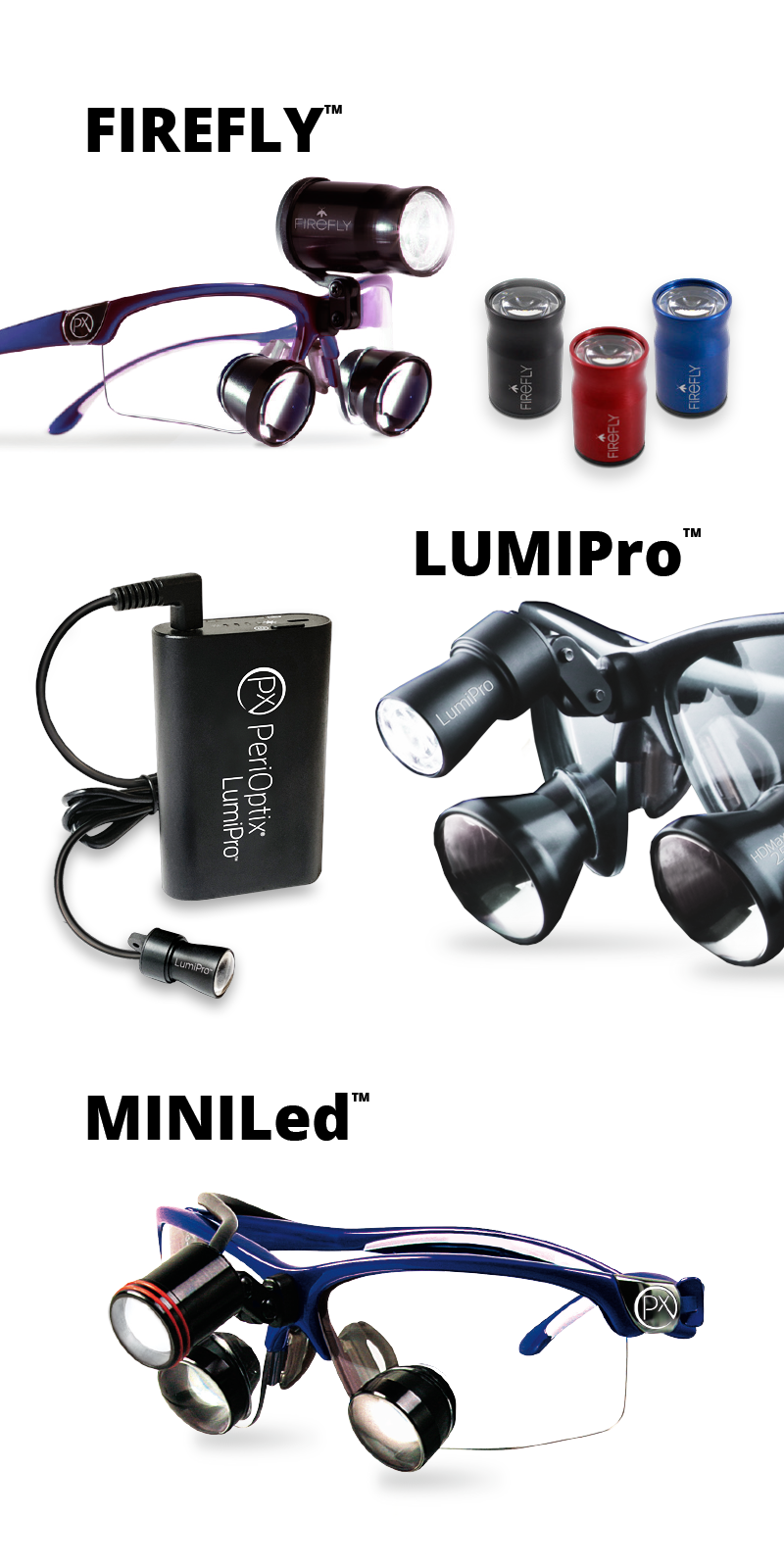 PeriOptix HeadLight
See Clearly Wired or Wireless. Incredibly Powerful.
PeriOptix improves visual acuity through powerful headlights that remove shadows in the oral cavity, eliminating the need for constant adjustment of overhead lighting. They provide uniform and natural-color output necessary to ensure the best outcome with your patients.
LumiProTM: The most powerful LED light.
Improved LED System
Natural daylight color at 5500k
Light Intensity: Fully adjustable up to 102 lumens
Weight: 8 grams
Field Illumination: 75 mm
Li-Ion battery: 10h of autonomy
Firefly™: Super power ... Wireless.
A light pod weighs less than 28 grams
Adjustable light intensity (20 kLux to 32 kLux)
Autonomy from 90 min (max intensity) to more than 150 min (min intensity)
Recharging of the 2 light pods in 2 hours
Available in 3 colors: black, blue or red
MicroLine™ Mini: The lightest LED light.
Weight: 6 grams
High brightness portable LED (40,000LUX)
Li-Ion battery with 8 hours of autonomy
Attachment to all PeriOptix magnifiers or to the headband Freedom™
90% recharge in only 90 minutes
User-replaceable cable
Optional composite filter available
Perivista Frame
Feel the PeriOptix difference.
No feature is more important for comfort than the frame. PeriOptix frames have a wide variety of styles and adjustments, providing overall comfort and customizability for our wearers. PeriOptix provides advanced, high-quality frames to meet your practice needs, while suiting your preference in style.
Various colors available
2 position adjustable nose piece
Adjustable declination angle with 3-position temple arms
Laser protection clip-on inserts (compatible with NVPRO3 diode laser - 810 nm)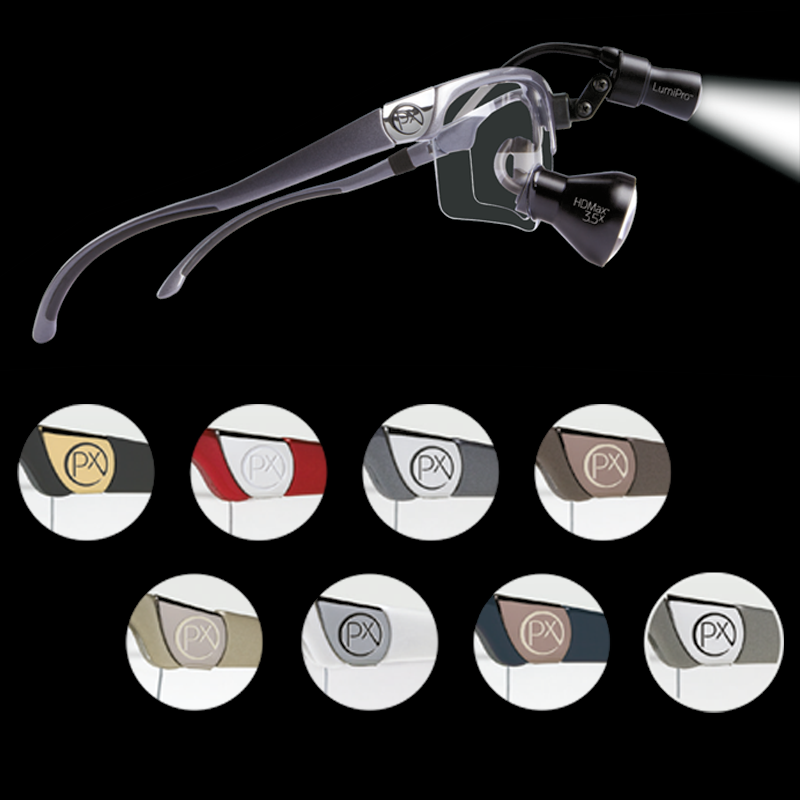 Would you like to know more about our Perioptix® Loupes & Headlight?
Our Perioptix® specialists and the TBR team will have the pleasure to present you our range of optical aids !